Advocacy: Making Our Case
CALL FOR ADVOCACY PROMOTIONAL VIDEO MATERIALS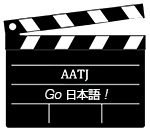 Lights, Camera, Action!
We need YOU to help make an AATJ Video Promoting Japanese!

The AATJ Advocacy Co-Chairs are excited to be working on a short video to promote the study of Japanese. We need YOUR help with the content materials, as you and your students will be the "stars" of this short promotional video. Our aim is to make the short video available on the AATJ website so that it can be used in classrooms, recruitment sessions, parents' meetings, and cultural events. You will be able to link this video to your webpage or Facebook page. Combining images, audio and music, we want to be heard!
NEW RESOURCES FROM THE JAPAN FOUNDATION
The Japan Foundation's Los Angeles office is always adding new resources to its Advocacy Website. Among the Japan Foundation's resources is a searchable list of schools and colleges that have Japanese-language programs.
The Foundation's latest creation is its SPEAKJAPAN WEBSITE, whose attractive, bite-sized graphics promote the many benefits and attractions of learning Japanese. Teachers can create custom-made promotional brochures using materials from the site.
WHY STUDY JAPANESE?
The PowerPoint presentation posted below is from a presentation made to high school Japanese language teachers at the 2014 National Japan Bowl by Amb. John R. Malott, the President of the Japan-America Society of Washington DC. It is aimed at parents, school administrators and others who question the importance of learning Japanese today. This presentation may be used freely to promote and advocate Japanese language study, but please give proper credit to the Japan-America Society of Washington DC.
Why Study Japanese? Presentation at 2014 Japan Bowl
RESOURCES FROM ADVOCACY WEBINAR
On March 9, 2013, AATJ hosted a free advocacy webinar. Participants added their own ideas and questions about advocating for their programs to those offered by AATJ Board members Mamiya Worland and Janet Ikeda and Co-President Jessica Haxhi.
View video recordings from the webinar by clicking on the links below:
Hour 1: Focusing on K-12 programs (facilitated by Mamiya Worland, Fairfax County Public Schools, VA)
http://aatj.adobeconnect.com/p3ebwwi5a33
Hour 2: Focusing on college-level programs (facilitated by Janet Ikeda, Washington & Lee University, VA)
http://aatj.adobeconnect.com/p7qaq41p79b/
This 3-page document
summarizes the ideas and suggestions from the webinar. The document was prepared by AATJ Co-President Jessica Haxhi.
Click here to download a flyer
created by students at a Virginia high school to advocate for their program. You are welcome to revise the text portion with information on your own program.
FOREIGN LANGUAGE ADVOCACY ON THE NATIONAL STAGE
The Modern Language Association's May 2012 Policy Statement on the Importance of Foreign Language Learning
NEW RESOURCES ON CAREERS AND LANGUAGE
A list of careers using foreign languages.
Interviews with professionals who use languages in careers like flight attendant, event planner, police officer, language lab director, and others.
WHY STUDY JAPANESE?
Ten Reasons to Study Japanese: Download this handout to get started talking with students about why Japanese is important, fascinating, and cool!
The Japanese language education field has come a long way from the days when only a few students studied Japanese in a small number of classrooms. Today, tens of thousands of enthusiastic American students study Japanese language, culture, and literature in every corner of this country. Budget cuts and other pressures sometimes threaten foreign language programs in public schools; competition from other subjects puts pressure on students to abandon their study of Japanese – or of any foreign language. This website offers information about the study of Japanese: why it is interesting and fun, what it has done for some amazing people, and what it can do for you. If you are a teacher, parent, administrator, or student who wants to stand up for your Japanese language program, or support the study of this amazing language, you'll find:
information about how Japanese can help you as you start a career;
interviews with students who studied Japanese about what they learned and gained;
and more!
This Advocacy Website includes interviews with students, teachers, and parents, as well as links to online resources to help with promoting Japanese language education in general and with supporting existing or threatened programs.

STUDENTS SPEAK UP
Kelsey Witt, Texas A & M University
Michael Ward studied Japanese and now works in Japan
Madeline Locke, Earlham College
Alex Steimle works in Japan for Nippon Express
Asher Ramras is a JET teacher in Japan
Chelsea Lura, video game fan
Eliza Campbell started Japanese in a first-grade immersion program
Erin Hodge, Langley (VA) High School
Joshua Hume studied Japanese in high school and now lives in Japan
Lindsey Witt, Texas A & M University
Marquel Carter, Culver (CA) High School football star
Marty Friedman, rock guitarist
Tom Killgore studied Japanese in high school and works for Panasonic

PARENTS WEIGH IN
Mike and Gail Hume, The Woodlands, TX
Betsy Campbell. Great Falls, VA
Cora Mackoff and Daniel Ramras, Seattle, WA
Steve Ward, Houston, TX
Bruce and Cindy Steimle, Montgomery, TX
Lisa Hodge, Great Falls, VA
Shirley Locke, The Woodlands, TX

TEACHERS ARE CHAMPION ADVOCATES
Jaci Collins, Menomonie, WI
Michael Van Krey, Evanston, IL
Yuki Matsuda, University of Memphis

SCHOOL ADMINISTRATORS HAVE THEIR SAY
Michele Anciaux Aoki, World Languages Supervisor, Washington State
Daniel Naegeli, Counselor, Meadowdale (WA) High School

STUDYING JAPANESE CAN LEAD TO CAREER SUCCESS
Kamalea Cott, Translator/Localize
Conan Grames, Lawyer
David Daniels, Diplomat
Aziza Zakhidova, Bank Executive
Jason Mortimer, Investment Banker
LINKS TO RESOURCES
Foreign Language: What Can I Do with This Major?
http://www.wlu.edu/prebuilt/careerservices/Majors/html/foreignlanguage.html

Description: This website from the University of Tennessee is a one-page document that provides lists of prospective jobs for foreign language majors. Lists are divided into broad categories of government, industry and commerce, travel and tourism, interpretation/translation, service and education, and arts, media, entertainment. Each of these broad categories is further broken down into more specific possible employers, for example, "banks and financial institutions" under industry and commerce and "professional language schools" under service and education. Each broad category is further supplemented with strategies or suggestions for how to better prepare oneself or become more competitive for employment in that category.

Review: This is a very global view of employment after graduation for language majors. It is likely useful for advocacy for all language teachers, but with some editing, and the addition of concrete examples of firms and agencies (perhaps with contact information) that are known to hire Japanese majors, it could be made much more useful for Japanese language teachers. Specific information about the JET program, other teaching opportunities in Japan, or links to helpful web pages on Japan teaching jobs, for example, would improve the usability of this document for Japanese advocacy.


Benefits of Early Language Learning (Center for Applied Linguistics)
http://www.cal.org/earlylang/benefits/index.html

Description: A Nanduti website that provides active links to a variety of other resources for advocacy. There are multiple uploaded documents to assist advocates with making the case for language learning under the categories of:
Review: A highly useful and well-organized site that, again, could be augmented by the Japanese language teaching community with specific information on Japanese. However, all of the resources here are immediately useful and the added materials for teachers will benefit all language teachers and have great applicability.
Promoting a Language Proficient Society: What You Can Do
http://www.cal.org/resources/digest/0001promoting.html
Description:This ERIC Clearing House website provides an introduction to why language learning is essential, and ideas for advocacy. The lists of advocacy initiatives are divided into:
what parents can do

(e.g. Provide videos, music, books in other languages; Send children to summer language camps or abroad);



what teachers can do

(e.g. Align foreign language curriculum with the national standards; Plan activities that encourage students to develop an awareness and appreciation of the linguistic and cultural diversity in the classroom);



what school administrators can do

(e.g. Develop a rationale for establishing a program which includes importance of language learning and cognitive benefits of developing language proficiency; Provide professional development for language teachers);



what policy-makers can do

(e.g. Budget adequate financial resources; Fund curriculum projects carried out by language teachers);



what the business community can do

(e.g. Make policymakers aware of the need for language proficient workers; Attend school career days to talk about the importance of languages in the workplace).
The document also includes where other information and resources are available.

Review: This is a very elementary and familiar list of advocacy tactics for foreign language learning activities and initiatives and is likely most useful to young teachers new to the field and to the fight. Those who have been teaching for a while should already be very familiar with these suggestions. However, it provides a good discussion starter for those who are active in language learning advocacy and want to inform or mentor others in the area. These lists could be edited to focus more on information and data concerning Japanese language study specifically.