Study Abroad in Japan: Bridging Scholarships
The Bridging Project offers scholarships to American undergraduate students participating in study-abroad programs in Japan. Funding from private foundations and major U.S. corporations, through donations to the nonprofit US-Japan Bridging Foundation, makes it possible to award about 100 scholarships each year to assist students with the travel and living expenses they will incur while studying abroad in Japan for a semester or an academic year. Applications are accepted twice a year for Bridging Scholarships.
FALL 2014 SCHOLARSHIPS
The deadline for submitting applications for scholarships for study in Japan beginning in Fall 2014 is April 8, 2014.
(If you will be studying in Japan in Spring 2015, please submit your application in the fall; the deadline for Spring 2015 scholarship applications will be October 8, 2014.)
SPRING 2014 SCHOLARSHIPS
Twenty-one scholarships were awarded to students who are studying in Japan in Spring 2014 .
List of recipients of scholarships for Spring 2014
SPONSORS OF THE BRIDGING SCHOLARSHIPS
The Bridging Scholarship program is sponsored and funded by the US-Japan Bridging Foundation, through contributions from a number of corporations, private foundations, and individual donors.
Contributors to the Bridging Scholarship fund include Aflac Japan, AIG Japan Holdings, Ronald and Maria Anderson, Bank of America-Merrill Lynch, Laurence Bates, Bill Breer, Bloomberg LP, the Bridging Scholars Alumni Fund, Estee Lauder, Exxon Mobil G.K., Bill Farrell, Robert Feldman, Daniel and Mikiyo Foote, the Freeman Foundation, GE Corporation, Goldman Sachs Gives, the Robert Grondine Memorial Fund, Ken Hakuta, Duan and Myrle Hall, Ellen Hammond and Yasuo Ohdera, Norimasa and Atsuko Hirai, Barry Hirschfeld, Jr., Ichigo Asset Management, JP Morgan Japan, Shiro Kambara, Jonathan Kushner and Miyuki Takahashi, Lockheed Martin, Kathy Matsui, Mission Value Partners, Mitsubishi Corporation (Americas), Morgan Stanley Japan, Oak Lawn Marketing, ORIX USA, Thierry and Yasko Porte, Brian Strawn, Paul Takanawa, George and Brad Takei, Temple University-Japan Campus, Gary Thomas, Toyota Motor Corporation, Christopher Wells, and Deena Zakim.
Qualifications to Apply
Undergraduate students majoring in any field of study are eligible to apply for these scholarships. Japanese language study is not a prerequisite. Applicants must be U.S. citizens and must be enrolled as undergraduates in a college or university in the United States before and during the time they are studying abroad. Their study in Japan must earn credit that will transfer to their home campus in the US.

Bridging Scholarship recipients receive a stipend of $2,500 (for students on semester-long programs) or $4,000 (for students on academic year programs). Students studying in Japan on summer programs are not eligible to apply.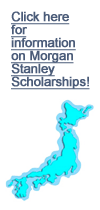 Morgan Stanley Scholarship Opportunity
In addition, Morgan Stanley Japan will offer two scholarships of $7,500 to students who have an interest in economics and finance, who will study in Japan for the entire 2014-2015 academic year, and who submit a supplementary research paper. For information on the Morgan Stanley Scholarships, click here.
Instructions for Applicants
Applications for study in Japan in Fall 2014 should be submitted to AATJ by the deadline of April 8, 2014.

Please submit the following to the AATJ office:
An application form can be downloaded from this website (see below). A printed application can be requested from the AATJ office by phone, fax, or e-mail.
A short essay (up to 500 words) introducing yourself, explaining your interest in study in Japan, and outlining what you hope to achieve by participating in a study abroad program (three copies).
An official transcript from your college or university.
A letter of recommendation from someone who knows you and is knowledgeable about your abilities and potential, preferably a professor or instructor in your major field. (This may either be submitted together with the application or mailed separately to the AATJ office; please note that it must be received by the application deadline date in order for your application to be considered.) Faxed or e-mailed letters will not be accepted.

PLEASE NOTE: April 8 is not a postmark deadline; your application materials should be received by that date.
Bridging Scholarship Application Form
The application is available on the website in two formats:

• Application in Microsoft Word form.
You can download this form to your computer, fill it out on your computer, save it, print it, and mail it.
Type the information in the shaded boxes (boxes will expand as you type); tab between boxes; click your mouse or type an "x" to fill in a Yes/No box.

Download the Microsoft Word Form.

• Application in PDF format. You can download this form to your computer, print it, fill it in and mail it.

Download the PDF scholarship application.
Bridging Scholarship Recipients Fall 2013
Bridging Scholarship Recipients Spring 2013
Bridging Scholarship Recipients Fall 2012
Bridging Scholarship Recipients Spring 2012
Bridging Scholarship Recipients Fall 2011
Bridging Scholarship Recipients 2010-2011 Academic Year
Bridging Scholarship Recipients Spring 2010
Bridging Scholarship Recipients Fall 2009
Bridging Scholarship Recipients Spring 2009
For further information on the Bridging Scholarships or the application procedure please contact Susan Schmidt, Executive Director of the Bridging Project Clearinghouse, at the AATJ office: aatj@aatj.org

Bridging Project Clearinghouse
American Association of Teachers of Japanese
Campus Box 366
1424 Broadway
University of Colorado, Boulder, CO 80309-0366
Phone: 303-492-5487 Fax:303-492-5856
E-mail: aatj@aatj.org
Web: http://www.aatj.org