Classroom Resources
AATJ offers training and professional development to Japanese language teachers in a variety of forms: by sponsoring workshops and summer institutes, by awarding individual small grants, by sponsoring publications and materials, and by introducing available resources. Classroom materials developed by teachers participating in these activities are offered to others in the field.

Please follow the links below to access some of the classroom materials that have been developed by teachers.


Classroom Materials on Chanoyu

Washington and Lee University developed a wealth of materials for K-12 classroom teachers as one of the activities focusing on its Japanese Tea Room Senshin'an. The Chanoyu Classroom Materials website has links to activity pages and lesson plans about the tea ceremony, a specially commissioned kamishibai which can be downloaded in PPT or PDF format, and many other resources on tea and its place in Japanese culture. While you are there, pay a virtual visit to Senshin'an and the programs and activities it inspires at the university and in the community.


East Asian Bookshelf

The National East Asian Languages Resource Center (NEALRC) at the Ohio State University invites you to visit its "East Asian Bookshelf" website, which aims to promote teaching and learning materials in Chinese, Japanese, and Korean and to assist teachers to find quality language teaching materials available to purchase. This project is a collaborative effort of NEALRC, CLASS (Chinese Language Association of Secondary-elementary Schools), CLTA (Chinese Language Teachers Association), AATJ (American Association of Teachers of Japanese) and AATK (American Association of Teachers of Korean), with financial support from a Department of Education Title VI grant. Comments and suggestions will be warmly received, seriously considered, and deeply appreciated by the site's coordinator, Minru Li, who can be contacted by email at or by phone at 614-688-3080.


Journey to the Interior: Curriculum Project 2009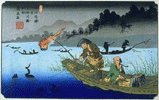 Thematic units were developed by participants in a one-month summer institute in Japan who retraced the haiku poet Basho's iconic 1689 pilgrimage route through northern Japan, as told in his classic work Oku no Hosomichi (Journey to the Interior), studied Basho's life and poetry, wrote their own poetry, experienced Japanese rural life, and developed materials for use in their classrooms. The two units collected here are (1) a standards-based introduction to Basho, haiku, and their Japanese context for intermediate to advanced students of Japanese, and (2) an interactive introduction to haiku using skits for beginning high school students.

Summer Language, Culture and Technology Institutes in Japan

Several dozen participants attended AATJ-sponsored summer institutes in Japan in 2002, 2004, 2006, and 2010 and produced multimedia resources designed for classroom use in grades K-12. If you were a participant in the summer institutes, and would like to retrieve the materials you produced, please contact the AATJ office.