Advocacy: Parents Weigh In
Cora Mackoff and Daniel Ramras, parents of Asher Ramras, talk about the benefits of studying Japanese language and culture for their son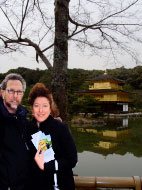 When Asher Ramras chose to study Japanese, it seemed in contrast with many of his friends whom he had previously studied Spanish. This decision rapidly became a very influential one for our son. Under the talented guidance of Tashibu sensei at Roosevelt High School in Seattle Washington, Asher quickly became fascinated with both the characters and culture of Japan. The demands of memorizing the characters and diligently completing the homework in the workbook gave Asher the discipline to succeed in the rigors of his Japanese I class and those skills transferred to the other courses he was taking.
Asher's involvement with the Japanese language and its culture has benefited our family greatly. Whether it was a trip to the Asian market in order to gather all the ingredients for sukiyaki or the latest recommendation for an anime film, Asher's enthusiasm for all things Japanese greatly enriched our whole family. He went on to university to study Asian literature, culture, and the Japanese language. When he spent his junior year in Kyoto, he finally declared Asian Studies as his major. We were fortunate to visit Japan in 2007 and have Asher as our expert guide. He was able to get us anywhere we wanted to travel, order any food or lodging—and 100% in Japanese. It was very gratifying to have all his hard work culminate in this amazing trip to Japan. We were so impressed with his knowledge and depth of understanding of the Japanese culture.
When your child chooses to study a complicated and unique language such as Japanese, it is a special choice. Each child should be supported and encouraged in any way possible by the entire family. Each time Asher took us to a new Japanese restaurant or read us an Asian short story or shared a review of a film he had just seen, our lives were enriched. Every Japanese student may not choose to major in Japanese, but if a child wishes to explore such a unique subject, he/she should always be encouraged. Our son is now teaching English to Japanese students on the island of Kyushu and having the most meaningful experience of his life thus far. Whoever could have imagined that his career began in his first-year Japanese class in high school!
(February 2010)